Meet the DailyMuscle Team
Our expert team makes achieving your fitness goals fun and inclusive.
Fill out the form below to get started
Take the first step towards getting the results that you want
LEARN MORE
Our founders
Noel & Kimbeley
Noel and Kimbeley are a husband-wife team who work together to create change and inspire people in their inclusive boutique fitness studio based in Glomac Damansara, KL. With a combined experience of over 40 years, both Noel and Kim have helped thousands of people get started in their fitness journey and rediscover fun in movement.
About Noel: Noel's approach to fitness is he believes that fitness should always be an invitation, and never intimidation. As a formerly obese individual, Noel wanted to create a non-intimidating environment for people to belong. He has presented in International conventions in Bangkok, San Diego, Greece, and New York – Noel is passionate about helping people find a fitness home they actually love.
Noel's Credentials & Career Highlights:
● Fitness Industry Expert Advisory Panel member – FEA, Fitness Edutraining Asia (March 2022 – 2024)
● Transformation Coach – Over 3,000+ documented weightloss/fatloss transformations
● Certified Personal Trainer, American Council on Exercise (ACE) – Since 2008
● Group Exercise Leadership (American Council on Exercise), First in Malaysia -2010
● Group Fitness Instructor, Aerobics and Fitness Association of America (AFAA)
● Group Fitness Innovative Teaching, GFIT, Fitness Innovations Thailand
● Precision Nutrition Level 1 (PN1), *First in Malaysia
● 2012 – The FIRST Fitness Idol Winner at Asia Fitness Convention, Bangkok, Thailand
● Host – TWO GUYS AND THEIR GYMS Podcast (60+ episodes)
● Spokesperson & Brand Ambassador for Reebok Malaysia (2013 – 2019)
About Kimbeley: Kimbeley is a double SEA Games (Southeast Asian Games) gold medalist and national triathlete. In May 2014, she was hit by a car from the back in a horrific accident that landed her in the hospital for a month. News of her accident went viral within minutes, with photos of her lying injured on the highway widely shared on social media. Today, Kim has bounced back on her feet and is grateful to have a second chance at life. She aims to empower other women to be stronger and happier, to believe in themselves and to look beyond their scars and flaws to become the best version of themselves.
Hometown: Klang!
Favourite Superpower: Enhanced Senses
Fitness Credentials: ACE-certified Health Coach, Personal Trainer, and Group Exercise Specialist. AFAA Group Fitness. Precision Nutrition (PN) Level 1. Computer Science 😅
Quick Health & Hotness Tip: The hardest part about your fitness journey is getting started.
Favourite Thing About DM: That it's a place where everyone can be themselves.
Here's a Little More About Noel: As a previously obese teenager, Noel understands what it's like to have low self-confidence, to be teased and bullied in school, to be that person who's 'never chosen', and always 'picked last' in school activities. He loves helping people kick-start their fitness journey. Follow Noel on IG @dailymuscle.
Hometown: Miri, Sarawak
Favourite Superpower: being anywhere I want at any time!
Credentials: Degree in Sport Science.
Quick Health & Hotness Tip: If you change the way you look at things, the things you see will change.
Favorite Thing About DM: a safe place where I can be myself.
Here's a Little More About Kim: Kim dislikes eating alone, she feels like people are looking at her and saying "oh this poor soul, so lonely." Follow Kim on IG @kimbeleyyap.
Hometown: Hulu Yam Bahru, Malaysia
Favourite Superpower: Travel Everywhere in this universe
Credentials: Fitness Training Programming, Freestyle Movement Specialist Coach
Others: Winner of World Mermaid Championship 2019, Mermaid Federation International Mermaid Instructor Quick Health & Hotness
Tip: Never say you can't when you have not tried it. Just Say Yes.
Favourite Food: Noodles + great protein (no beef)
Favourite thing about DM: The Family Vibe and laughter
Here's little more about Wen: Wen enjoys learning new skills – he dabbles in pole dancing, contemporary dance, Ariel Hook, Gymnastics, parkour and calisthenics! Besides Enjoying his two legged activities, most times he's also 'half human-half fish'. (Swim over to his IG: @MerwenMerman to follow his merman journey) Wen believes that Life is a journey and one must feel free to experience every single moment and say YES to life.
Hometown: Kluang (Kluangman)
Favourite Superpower: Power of transformation…power of squats…
Fitness Credentials: CF-L1 Quick Health & Hotness
Tip: Hydrate, eat healthy, sleep, and move better.
Favourite Thing About DM: The heroes
Here's a Little More About Puvan: Puvan loves the fitness journey because he finds it so rewarding when he gets to witness people changing and transforming their lives for the better.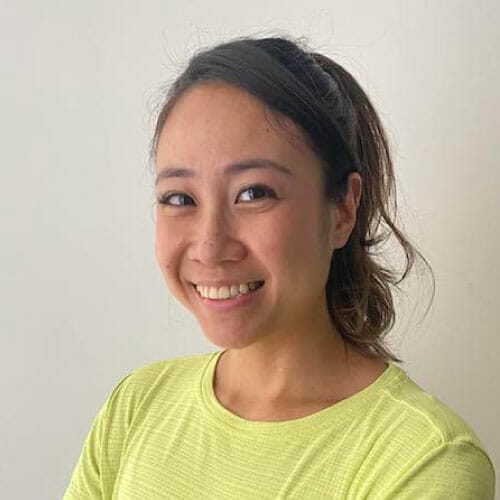 Hometown: Kuala Lumpur
Favourite Superpower: I feel everything very deeply – it can be both beautiful and destructive.
Fitness Credentials: – Licensed Body Combat instructor by Lesmills. – 8 years experience in teaching group fitness classes in commercial gyms .
Quick Health & Hotness Tip: – Don't let others judge your results when they don't know your efforts. – Don't be hot like him/her, be hot like YOU.
Favourite Thing About DM: Their efforts in making human connections far greater than just fitness.
Here's a Little More About Michelle: I'm an introvert and typically do not have enough self-confidence (but I'm working on it! 🙂 I spend too much on coffee outside when I can make it at home. I have a Degree in Psychology and I'm currently doing my Masters in Counselling. I'm Type 2 on an Enneagram scale and a Golden Retriever on the Smalley Trent Personality Test 🙂 Go find out!
Hometown: KL, Malaysia
Favourite Superpower: Speaking all Languages (Superpolyglot).
Credentials: Core Power Yoga, 200 hr Yoga Teacher Training in Honolulu, Hawaii
Quick Health & Hotness Tip: All you need to do is just show up on your mat and trust your body to do the rest.
Favourite Food: A really good acai bowl (not the watery kind).
Favourite thing about DM: Community and Inclusiveness.
Here's little more about Eunice: She always has a bag of chips in the pantry to go along with her Netflix binges. She loves saying she's a coffee drinker but really, she loves matcha more. Besides yoga, she loves hiking, journaling and watching Netflix! She also loves all things relating to healing, wholeness, transformation and empowerment!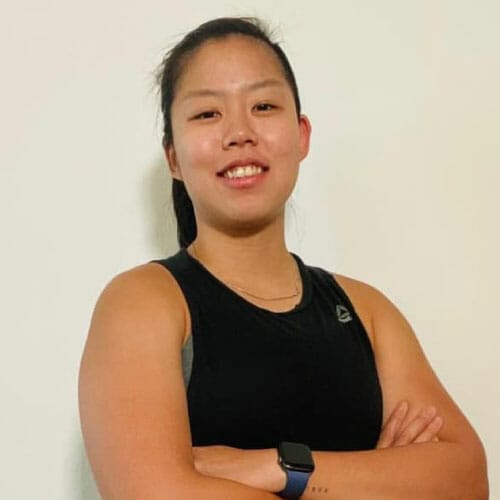 Hometown: Indonesia
Favourite Superpower: eat without gaining weight 😂.
Fitness Credentials: Trained in Lesmills programs (bodycombat, bodypump , rpm, and bodybalance) Certified for fitness rider (taiwan).
Quick Health & Hotness Tip: Always choose the healthier option.
Favourite Thing About DM: community.
Here's a Little More About Marcella: Coffee before anything.
Hometown: Subang Jaya, Selangor
Favourite Superpower: Being calm.
Experience:: Online coaching & fitness/nutrition content creator.
Quick Health & Hotness Tip: If you can set yourself up for consistency, you set yourself up for success. It's a game of habits. Create a process you can stick to, keep going and don't ever say no to pizza!
Favourite Food: Tough battle between chicken rice and pizza haha.
Favourite thing about DM: Inclusive and wholesome approach to health and fitness ❤️
Here's little more about Gan: Gan loves lifting weights and learning about the science behind all things health, fitness and wellbeing. You can win him over with the promise of a scrumptious meal or a discussion on how nutrition/exercise influences wellness and longevity.
Hometown: Kota Kinabalu, Sabah
Favourite Superpower: Black hole stomach – I can EAT!
Credentials: STOTT PILATES®️ Certified Instructor, Pilates Ante & postnatal (APPI-Australian Physiotherapy & Pilates Institute), Certified yoga teacher since 2013 Quick
Health & Hotness Tip: Movement is medicine. So, keep moving!
Favourite Food: Sashimi & Matcha Ice-cream
Favourite thing about DM: Fun & gila (in a good way) community
Here's little more about Jojo: Whether it's yoga or pilates, Jojo enjoys teaching because it allows her to connect with her students, guide them in awareness of how their individual body can function in a safe and efficient manner. Besides pilates and yoga, Jojo loves any kind of outdoor activities like hiking, snorkelling and laying out on the beach if she ever gets the time to do so. She also loves climbing, sleeping and matcha ice-cream.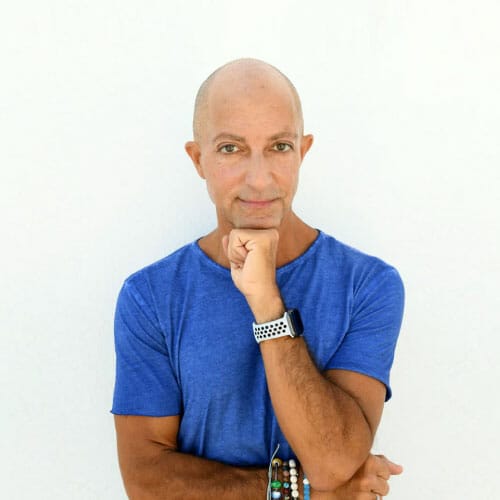 (Team Oversight) Lawrence has worked with the DailyMuscle Team since 2012 as team oversight – playing an active role in ensuring our programs meet (and exceed) international standards. He has made fitness history as a Mindful Movement Specialist winning awards from ACE, IDEA & Inner IDEA, Can Fit Pro, and ECA. Lawrence is an SCW Faculty Member, and industry Author, Presenter, Keynoter, and Course Development Specialist for various companies, serving on the Advisory Board for the ICAA and Power Music®, and People of iSPA. Lawrence (RYT 500) teaches with multiple certification experience. Find Lawrence at www.findlawrence.com..
Start here
Book a free intro today so we can learn all about you, your goals and how we can help you reach them
Fill out the form below to get started
Take the first step towards getting the results that you want
Free Intro